Hello to everyone from the membership of the Hyner Mountain Snowmobile Club.
This was a tough article to write. Why you ask? Because at this point in the season I was hoping to be able to entertain you with tales of snow-covered weekends and miles and miles of riding from our lodge.
Problem is that never happened, or at least not very often. Despite prognostications from Penn State's own WeatherWorld TV show of "a 60% chance of greater than average snowfall this winter", snow was mostly a no-show for the majority of the season in Pennsylvania and the northeast US.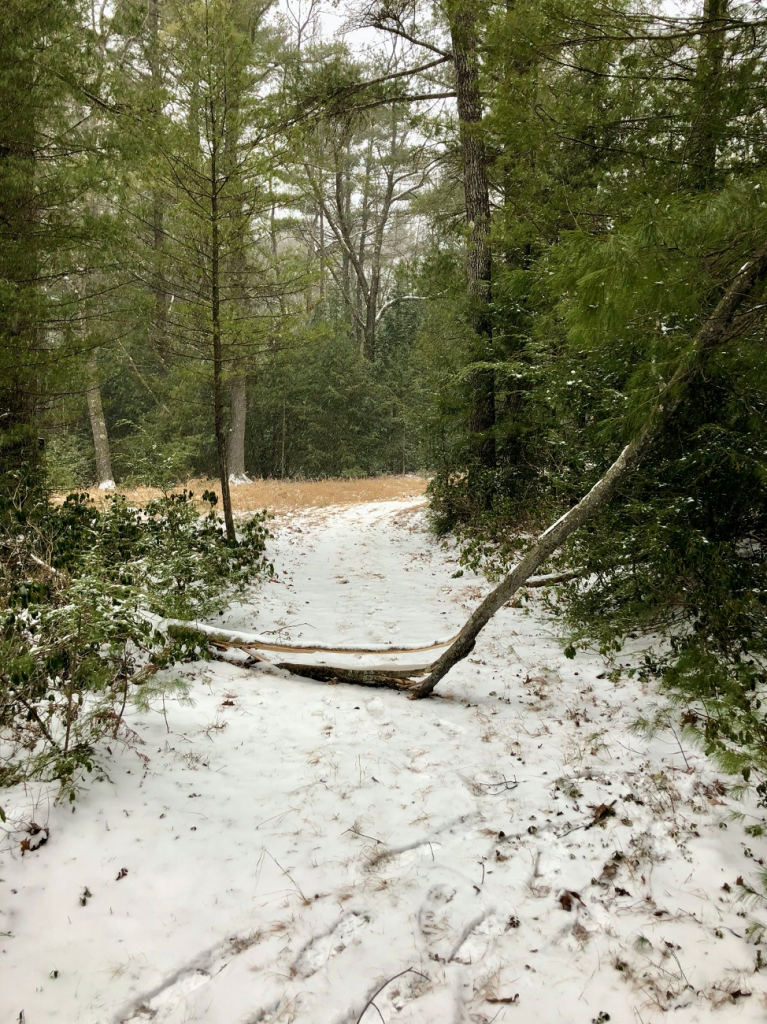 Sure, the winter got off to a hopeful start with snow in late November and early December, but the trails weren't open yet. It warmed in mid-December and despite a few cold periods and some snowfall, it seemed we spent the entire winter at 3" or so of crusty accumulation just waiting for one additional 5-6" storm that would finally drop the powder that the trails in our area so desperately needed. We are still waiting…
Enough of that. Despite not being able to ride around the lodge as much as we wanted, the Hyner Mountain crew is a hardy bunch and we kept busy with a variety of club and snowmobile-related activities:
After kicking off the new year a bit early with its annual New Year's party at the lodge the weekend of 12/28 – 12/29/19, the club conducted its annual open house the weekend of 1/18 – 1/19/20. Thankfully the temperatures were in the 20's and snow was in the forecast but because of the weather, the attendance was sparse. However, an impromptu inspection of our access trail revealed that a 3" tree had broken and was partially blocking the trail. Several lodge members removed that wayward tree. Good thing too, as about 4" of snow fell that day and night and several lodge members did utilize that access trail to ride their first miles of the season that weekend.
The weekend of 2/1 – 2/2/20 saw several lodge members and guests attending the God's Country-Black Forest Snowmobile Club's annual vintage show at their clubhouse. There were lots of antique and vintage snowmobiles on display, and just enough snow to take a brief 10-mile trail ride. For those of you that have never attended, Bill Sowers and his gang do a first-class job conducting the show with plenty of food, t-shirts, trophies, and comaraderie. This is a MUST-ATTEND event for any snowmobiler, antique/vintage snowmobile owner or not. Being a vintage snowmobile owner myself, I was happy to see that many of the snowmobiles being displayed were in original running condition, warts and all. I am sorry to report that I left my '75 Ski-Doo at home this year but I can tell you I won't make that same mistake next year.
Not having much consistent snow in either PA or NY, approximately eight club members made the long trip to Washburn, Maine to get some miles. This annual trip is organized by club VP, Rich Ebersole, in conjunction with the Blue Mountain Snowmobile Club, which is based in Bellegrove, PA near Annville. Rich spent 3 weeks in Maine but most of the Hyner club members were there from 2/14 – 2/21/20. Despite some mechanical mishaps, of both the snowmobile and vehicle variety, the riding was excellent with plenty of snow (finally!). The trip was based out of the Aroostook Hospitality Inn and the owner and staff couldn't do enough for our group of approximately 28-30 snowmobilers. Despite some illness that afflicted several members of the group, yours included, lots of miles were accumulated with no serious mishaps. Several members of the group did decide to try some impromptu off-trail riding, but with some digging and tugging, they were soon back on the trail and underway. My odometer showed 1079.2 miles when we loaded my sled back on the trailer. A big shout-out and an even bigger THANKS to the members of the Washburn Trailrunners snowmobile club for their wonderful breakfasts and lunches that week while we were there. And the homemade whoopie pies weren't bad either!
The last decent bit of riding at the lodge was the weekend of 2/29 – 3/1/20. There was some ice base left on the joint use roads and 4-5" of lake effect snow fell that week. Since the weather was forecast to warm quickly the Sunday of that weekend and the following week, several lodge members, including myself and my friend and guest Roger Garman, decided to make the trip. Conditions were variable but generally staying higher in elevation meant better riding. Several members trailered to the Cherry Springs area and reported some additional snow coverage but also lots of riders and bumps. Roger and I stayed near the lodge and rode our '75 Ski-Doo and '84 Moto-Ski vintage snowmobiles. We were able to roll-up approximately 60 miles that weekend and while I went home on Saturday evening, Roger continued north and west to a friend's house in the Allegheny National Forest area where he found better snow coverage and trail conditions.
So, there you have it, this past winter at Hyner Mountain Snowmobile Club in a nutshell. We certainly didn't get the snow we all desperately wanted but it didn't really matter. Being a member of a club gives you lots of opportunities to enjoy various snowmobile-related activities with some wonderful, fellow snowmobile enthusiasts.
You are invited to come join us. Simply Google "Hyner Mountain Snowmobile Club" to find our website. Once there make sure you take a peek at our snow cam that uploads a picture every hour. We also have links to the National Weather Service forecast and the radar for our area.
If you would like to visit our club, please fill out the brief form on our website and submit it. We'd be happy to show you around our beautiful sleep-in lodge. We have memberships available.
Come find out why we say that the Hyner Mountain Snowmobile Club is a "great place to rest your head and park your sled".
Harrison Langley, Jr, Reporter