PSSA held its Annual Meeting on April 15, 2023 in Altoona, PA. We held our Spring Raffle and gave out our annual awards.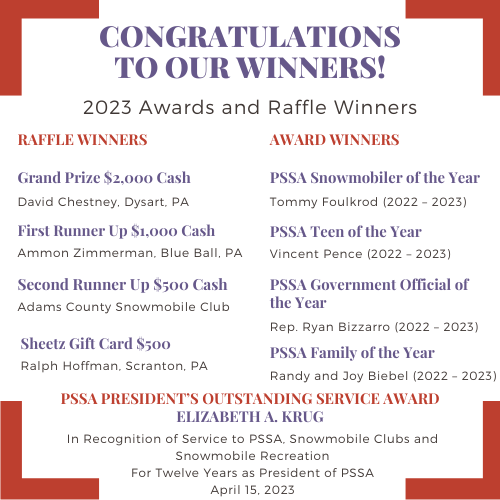 ---
Annual Meeting information 2023
Agenda & Registration
Registration, the agenda and the order form for more raffle tickets are available here: Annual Meeting
Awards
Awards are announced each year at the Annual Membership Meeting. Clubs have many outstanding members who deserve an award for their spirit of volunteerism and dedication to the sport. Please consider one member per award and e-mail your nominations to: Rich Hayes, PSSA President at: rahazey@yahoo.com Deadline is March 3, 2023.
Awards are the following:
PSSA Snowmobiler of the Year
PSSA Family of the Year
PSSA Teen of the Year
PSSA Dealer of the Year
PSSA Government Official/Forester of the Year