Kellner Snow Tours LLC conducted two snowmobile trips this year. The first trip started Sunday, 02/09/20 at the Doubletree by Hilton, Quebec City, and traveled the north shore of the St. Lawrence River. We rode to the Fairmont Le Manoir, La Malbaie; Complexe Hotelier Pelchat, Les Escoumins; and to our farthest destination Hotel Le Manoir, Baie Comeau; before returningt to the Hotelier Pelchat; Hotel Pavillons Le Petit Manoir, La Malbaie, and back to the Doubletree on 02/14/20.
The second trip started Sunday, 02/16/20, at the Auberge Gouverneur, Shawinigan.  We rode to the Hotel Marineau La Tuque; Auberge Du Lac Taureau, St Michel des Saints, for Monday  and Tuesday nights; to the Villa Bellerive, Nomininque; Pourvoirie Au Pays de Real Masse, Saint Zenon, and back to Auberge Gouverneur on 02/21/20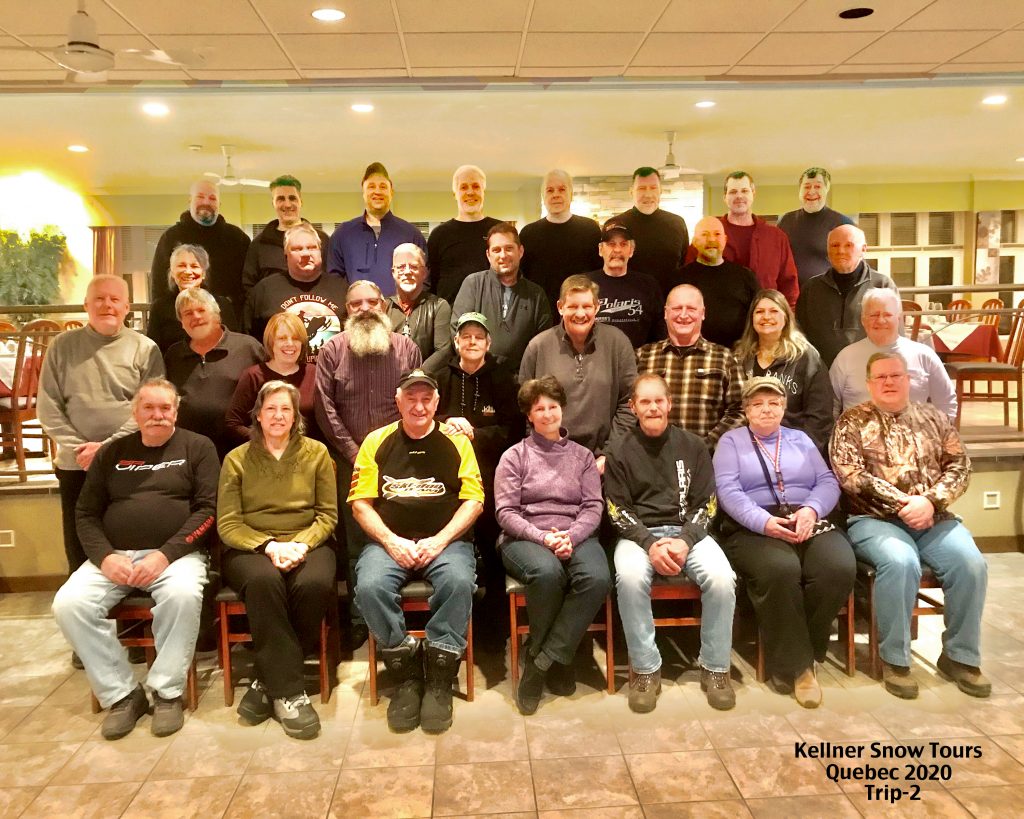 The first trip had 30 riders going app 875 miles +/-. There was plenty of snow with the trails largely excellent, except for the first day. The second trip had 29 riders going app. 700 miles +/-. Again there was good snow cover with largely excellent trails. The weather was good, with the temperture range from -20 to 20F.
The support truck and support personel had a few problems, both weeks, but were a welcome sight at each stop. While both trips had a small share of bumps and bruises, with the largest being app. 10 people on the first trip being struck with what is believed to be some type of virus, which disappeared in 1 or 2 days.
The accomodations booked on the tours included resort hotels, chain-franchised hotels, and bed and breakfast inns. The meals offered varied cuisine and generous portions.
Everyone appeared to have a good time and an enjoyable tour. We were pleased to welcome new riders as well as many returning snowmobile friends who have ridden with us in years past. The majority expressed interest in returning for tours to be offered next season.
We had a few riders ride both weeks, Glenn Godshall,Mike Murphy, Larry Croll, Don Barrick, and Darlene Mindler. At the end of each week, a DUMB !#* award was awarded for feats that cannot be explained, with Jim Klein receiving the award the first week and Louise Possinger receiving the trophy the second week. A poker run was held each week with the first weeks winner Jen Steinbach and the second week Kim Borochaner each receivng a certificate awarding them $100.00 off a booked tour for 2021.
Respectfullu submitted by Kellner Snow Tours LLC
Sue Barric, Randy Moyer & Carl Mindler